Academic Programme
Microalgae Bioprocess Engineering Master's Degree (MBE)
Résumé
Microalgae Bioprocess Engineering is an academic curricular of the Process and Bioprocess Master's Degree. It is a two-year degree (M1 + M2) but only the second year (M2 Microalgae Bioprocess Engineering) is accessible at Polytech Nantes. Read more
Details
Information
Faculty

Duration

Places *

Saint-Nazaire

Internship(s) *

Yes, Compulsory
Targeted audience
Prerequisites for enrolment

Bac +4
Labelling
Language
The program mainly aims at international students and is taught in English.
Submission
Academic calendar
The courses start early september.
Peculiarities
MICROALGAE CYANOBACTERIA

BIOPROCESS ENGINEERING

PHOTOBIOREACTOR DESIGN AND CULTURE

DOWNSTREAM PROCESSING AND EXTRACTION
Costs
Tuition fees: 7500 €
These cost corresponds mainly to education and training costs.
Introduction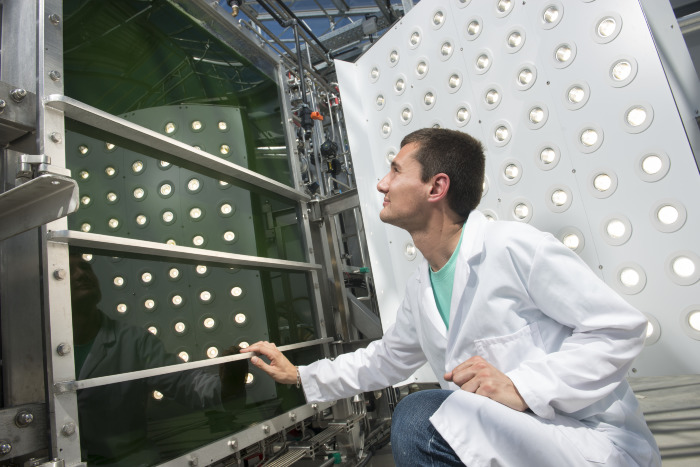 The international Master's Degree Microalgae Bioprocess Engineering is integrated in a two-year program in process and bioprocess engineering, with three academic semesters (lectures in english) and a six-month intership in industry or research laboratory.
This training is supported by the GEPEA laboratory and benefits from the microalgae research environment of the Saint-Nazaire site, as well as the Algosolis platform.
Objectives
Skills:
to develop an industrial process for microalgae valorization
to be able to conduct a research project on microalgae
to be able to manage an industrial project related to the microalgae field
to be familiar with the multidisciplinary approach needed in microalgae field (biology, engineering)
Highlights

Students enroll for a two-semester program (second year of the Master). A total of 60 ECTS must be validated to graduate. For
candidates entering the first year of the Master's Degree (PM3E, IMT Atlantique), the programme will deliver fundamentals in process
engineering and project management before entering the second year of the Master's Degree (Master's PM3E for details).

Language:
All courses are taught in English. French courses are organised for foreign students. A French Summer School is also available on request.
Places
Saint-Nazaire
Polytech Nantes (campus Gavy)
Our partners
Research center
Polytech Nantes relies on the expertise of 7 world-renowned high-level research laboratories. The school is pro-actively involved in research and development activities.

Hosting research labs with Microalgae Bioprocess Engineering academic curricular:
Admission
Entry requirement
Academic requirement
The Master's Degree is a two-year degree. Candidates with a Bachelor of Science degree will enroll in the first year of the Master's Degree (Master PM3E, IMT Atlantique).

Candidates with at least a 4-year Bachelor degree or first year of Master's Degree can ask to enroll directly in the second year of the Master's Degree. Candidates must have a good knowledge in, not necessarily all, but a majority, of the following fields:

• chemical and bioprocess engineering
• biochemical engineering
• mechanical engineering
• physics, Chemistry and biology
Programme
Academic curricular in Microalgae Bioprocess Engineering (program)

First semester (S9) - (30 ECTS):
• Biology of microalgae
• Industrial valorization of microalgae
• Biochemical and metabolic engineering
• Microalgae culture and photobioreactor engineering
• Harvesting and biorefinery of microalgae
• Process integration and operation of microalgae exploitation facilities
• Project
• Language
Second semester (S10) - (30 ECTS):
• FEM - Master's Thesis
What's next?
Level of education obtained after completion
Bac+5 (Unknown label)
Career opportunities
Business sectors
Career opportunities:
Engineer in industry or research
Project engineer
R & D engineer
Higher education and research, particularly through doctoral training
Registration
Registration procedures
For students coming from a partner university with Polytech, please contact the international office coordinator of your home university concerning the enrolment.
→ Nomination deadline April 15th 2023.

For students coming from a country that is part of the Campus France procedure, please enrol with Campus France.
→ Applications from October 1st, 2022 to January 1st, 2023.
Click here to see the list of countries part of the Campus France procedure.

For students coming from a country that is not part of the Campus France procedure, please download the application form and send it to incoming.mobility@polytech.univ-nantes.fr with all the requested documents.
→ Deadline to submit your application: 15 April 2023.
Contact
International office
Phone : +33(0)2 51 85 74 25
incoming.mobility@polytech.univ-nantes.fr
Mis à jour le 12 July 2023 - Communication Polytech.